New tyre changers and balancer – BLACK LINE
BLACK LINE by REDATS just came up!
We have just introduced a brand of tyre changers into our offer. Check out the BLACK LINE products.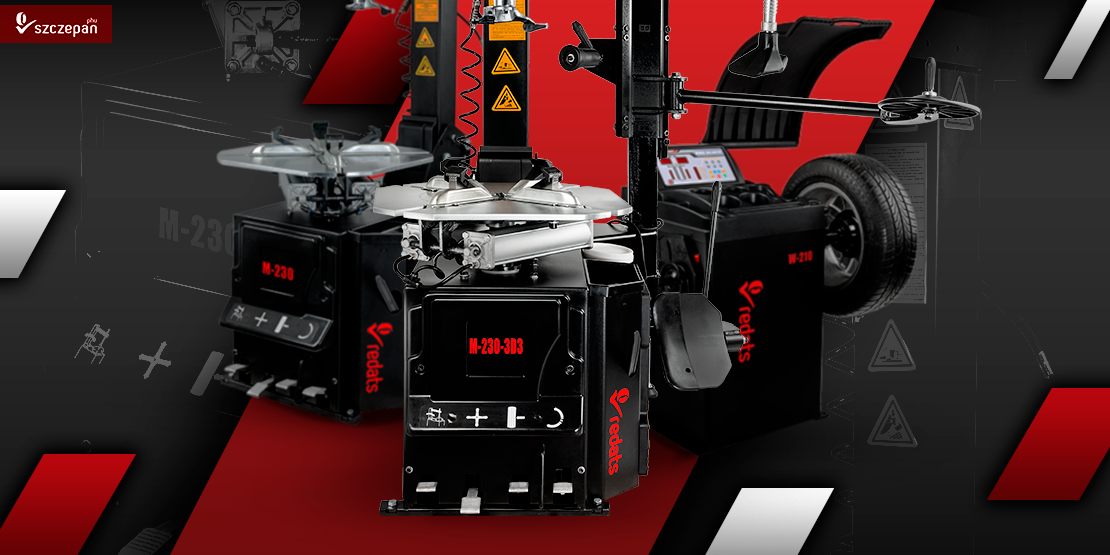 Black Line by REDATS – what it is about?
See what the BLACK LINE consists of:
wheel balancer,
tyre changers.
Tyre changers – BLACK LINE by REDATS
The following tyre changers are available
semi-automatic – REDATS M-120,
automatic – REDATS M-230,
automatic with RUNFLAT/low-profile arm – REDATS M-230-3D.
Tyre changer REDATS M-120
It is a semi-automatic tire changer. Is there any good reason you should get a semi-automatic unit? Apparently, it's going to work out as an additional unit at tyre bay. For instance, when you are planning to organize additional tyre changing stand at your bay, to be used during the high season only. Here, getting a semi-automatic unit seems just wiser, mainly because it is simply cheaper.
Well, unless you are sure that you will have a large enough turnover that an automatic changer would also be useful 🙂
What does that tyre changer have to offer? We introduced a few upgrades that make your work easier. Check them out:
scale on the turntable,
more powerful engine,
stronger hammer,
increased rim range.
Scale on the turntable – what do you need it for?
You will find a special scale on the table in this unit. Thanks to it, you can quickly choose the right position of the jaws, adjusting them to the size of a given wheel. This will significantly speed up your work!
Even more efficient work
We will compare this changer to a similar proposal from our offer – the REDATS M-111 unit. Compared to that one, the new tyre changer boasts a more powerful engine. Check details below:
Model
Turntable speed
Max. turntable
torque
REDATS M-111
6 RPM
1078 Nm
REDATS M-120
7 RPM
1200Nm
What does this mean for you? A stronger and more efficient table means that you will simply do your job faster. In season, when every second counts, it will make your life much easier – don't cheat!
Increased rim range
Compared to the REDATS M-111 tire changer, the new tire changer will let you handle a larger range of wheels. Details below:
| Model | Internal clamping | External clamping |
| --- | --- | --- |
| REDATS M-221 | 12-22″ | 10-19″ |
| REDATS M-120 | 12-24″ | 10-22″ |
Don't forget that cars' rims and tires are constantly increasing. The extra inches will certainly come in handy. Although REDATS M-120 is a budget machine, it is capable of handling the same wheels as premium machines.
Black Line tyre changers – automatic REDATS M-230
We also introduced an automatic tire changer – REDATS M-230. In this unit we added several features that make your work lighter. To get even better perspective of how that works, let's compare them with the REDATS M-221 tire changer. The other one is the most similar to the M-230 – at least parameter-wise.
REDATS M-230 – improved working efficiency
The new REDATS M-230 tire changer has a significantly reinforced bead breaker. Its power has increased by as much as 700 kilograms! This means that your work with each wheel will simply be much faster. Below is a comparison:
| Model | Bead breaker force |
| --- | --- |
| M-221 | 2500 kg |
| M-230 | 3200 kg |
Increased rim sizes
The wheels are getting bigger and we will not avoid it. This is why this tire changer is able to handle even larger wheels than its predecessor. The M-230 tire changer is able to handle rims up to 22 "- we are talking about the range externally.
Wheel balancer REDATS W-210
This is a semi-automatic proposition for passenger and delivery wheels. It will be perfect even as an additional device – for example, if you are looking for a balancer to create another position in your vulcanization, then such a semi-automatic machine will be perfect.
Why? It is cheaper than vending machines – the investment will pay off faster, which is important in the case of a device that is to be used as an additional device – it will work less, so it would be better if it was cheaper to buy.
What's new in the REDATS W-210 balancer?
Compared to the previous generations, several key elements have changed. We will skip the color, because you can see it at first glance. The changes also affected technical solutions – for example:
balancing time,
changing buttons,
larger displays.
What about the balancing time? In REDATS W-210 it is only 8 seconds! This means that you will spend much less time on each car – thanks to this, you will have more time for other activities. This is important, especially in the high season – there is nothing to hide.
Why are we writing this about this balancing time? So far, we have known such values rather from the premium series balancers – for example REDATS W-770 or W-790. It is worth mentioning that the REDATS W-210 balancer is a budget device – and yet it offers features known from the premium class proposals.
To sum up – this parameter has a significant impact on the comfort of your work. You will balance each wheel faster, so you have more time for other activities. But these are not all the changes we have made to this machine compared to previous models. The displays and the control panel have also changed.
Button redesign
The buttons in the new REDATS W-210 balancer have a round shape. Square and rectangular buttons are standard in this price class. They are also placed at a greater distance from each other, which makes it easier to press them in, even with thick gloves (for example in winter). Thanks to this, they provide much more convenient use.